Along the busy and traffic-congested road that is Makati Avenue is a haven catering to the wanderers that venture into this bustling city.
Dubbed Essential goodness, for the pilgrims, it is a rooftop restaurant and bar of premium hostel Lub D Makati. The restaurant's dining experience is the result of the hostel's collaboration with notable local chefs Nicco Santos and Quenee Vilar of Hey Handsome and Your Local restaurants. With a menu that builds on familiar Pinoy favorites and international cuisines, the resto initially made a name for itself among Poblacion's denizens with its All-Day brunch menu.
It also boasts of tastefully decorated interiors and an al fresco roofdeck with a breathtaking view of the Makati skyline.
Recently, along with fellow foodies, I got a sneak peek at its soon-to-be-launched menu items which were paired with drinks from the resto's bar list. These include:
Tofu Salad. Made with marinated kino tofu tossed with spinach, cilantro, basil and lime. It is paired with Caipirinha, a Brazilian cocktail made with lime, sugar cubes and cachaca, a distilled spirit concocted from fermented sugar cane juice.
Salmon Ceviche. Raw marinated salmon served with green papaya, tomatoes, coconut cream, green and red eye chilis and cilantro. It is paired with Sauvignon Blanc.
Crab Curry. Crab meat stewed in curry, and served with cilantro and roti, flatbread originating from India made from stoneground wholemeal flour. It is paired with the exotic Sour Sup Black Tea, a drink made of guyabano juice, black tea and whisky.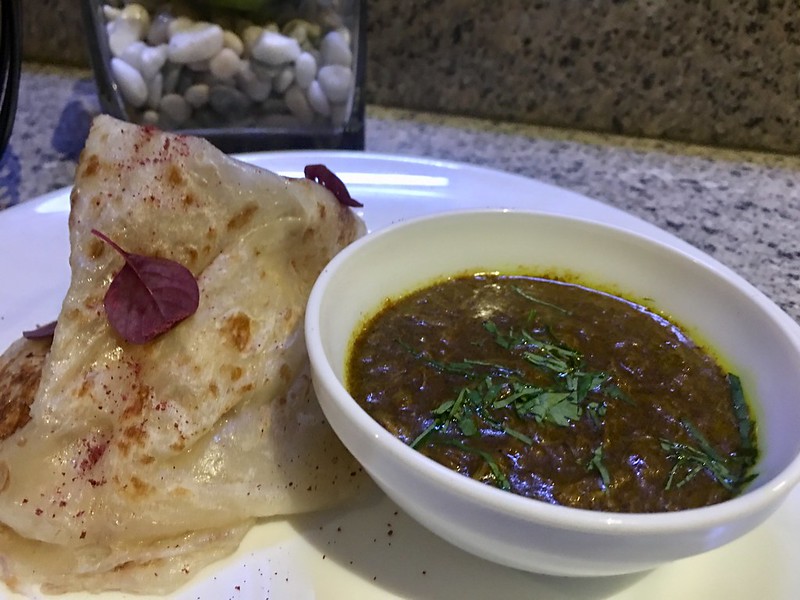 Fried Chicken Poppers. Juicy fillets of breaded chicken served with spicy sambal cream cheese and edible flowers.
Vegan Curry Laksa. The Southeast Asian spicy rice noodle soup made even healthier with shitake mushrooms, zucchini, bean sprouts and banana hearts. It is paired with a refreshing glass of Essential Iced Tea made with black tea, lemongrass and calamansi.
Thai Fried Chicken. Cured chicken deep-fried to achieve a crisp and flavorful skin and tender juicy meat. It is served with pickled red bell pepper and green chili sambal on top of fragrant herbed rice.
Braised Beef. Local beef slow-cooked for four hours and served with guava sauce, green papaya salad and herbed and toasted rice. It is paired with Cabernet Sauvignon, one of the world's best-known red wine varieties.
Earl Grey Chocolate. A thick layer of grey black tea infused chocolate smeared onto a bowl containing vanilla ice cream topped with citrusy yuzu syrup and brown butter crumbs.
Mango and Sticky Rice. Slices of sweet ripe mangoes topping a bed of coconut sticky rice with a side of caramelized peanuts.
The new dishes feature a distinct Southeast Asian taste profile, with some heat from the chilis and crisp freshness from the vegetables. One or two dishes do have a bit of a problem in balancing the flavors but this can be addressed prior to their official launch. Do watch out for these tasty offerings in the coming days.
The deliciously exotic food, chill vibe and beautiful surroundings made this food tasting a very memorable event for me and my fellow foodies. Kudos to the Essential goodness, for the pilgrims team for the masterfully prepared dishes and the lovely event.
Essential goodness, for the pilgrims is located at 13th Floor, Lub d Makati, 7820 Makati Avenue, Poblacion, Makati City, open daily from 6am to 3pm and 6pm to 10pm. For inquiries and reservations, call +63 2 5416358 loc 2600 or +63 917 5340497.
Disclosure: Together with other food bloggers, I was invited to attend a food tasting held in this restaurant. Food items mentioned here were served to allow us to sample the fare and were not paid for by the attendees, including myself.