Foodies, if there is one thing you can count on, it's the fact that your Tita Jellybeans is always on the prowl for new and exciting gastronomic experiences to share with you.
And, boy, do I have great news!
There's this restaurant along Mayon Street in La Loma, Quezon City (a place I'm a bit unfamiliar with but I didn't let that stop me from going on this foodie adventure) that specializes in takoyaki and milk tea called Gulu Gulu.
If you're thinking that it's just another snack bar or street food stall, you've got another think coming. For one thing, the place is not a stall at all but a beautifully designed and well-appointed cafe. Floor-to-ceiling windows bathe the interiors in bright, natural light while Japan-inspired murals add color to the interiors. Tables and cushioned chairs are spread in the sprawling space, giving diners comfortable seats in which to enjoy their food. Comics and short story books are also displayed, adding to the relaxing cafe feel. Almost every nook and space can be an Instagrammable spot.
Plus, you can watch Gulu Gulu's takoyaki masters in action in the open kitchen as they prepare the food fresh upon order.
Gulu Gulu's real claim to fame, of course, is its food.
With a name derived from the sound of a rumbling stomach, Gulu Gulu strives to satisfy hunger with delicious and filling fare that are definitely worth several return visits.
First of these is its takoyaki, claimed to be the best ones in town and unlike any other takoyaki balls you may have tasted. I really can't argue with that claim. Made with the freshest ingredients like chopped octopus, cabbages and onions, they come in wondrous and creative variety, giving even the takoyaki connoisseur new ways to enjoy this delicious snack.
Available takoyaki flavors include: Classic (Php65/3pcs | Php120/6pcs), Pork Floss & Nori (Php70/3pcs | Php130/6pcs), Tuna Floss (Php70/3pcs | Php140/6pcs), Roe (Php70/3pcs | Php140/6pcs), Seaweeds (Php70/3pcs | Php140/6pcs), Chizu-Yaki (Php70/3pcs | Php130/6pcs), Spam-o-Yaki (Php70/3pcs | Php130/6pcs) and Crispy Takoyaki (Php130/6pcs).
If you feel like having something more substantial, you can always opt for a sushi roll. Here, Gulu Gulu does not scrimp on the variety either. Take your pick among these sushi flavors: California Roll (Php220/8pcs), Crazy Maki (Php280/8pcs), Cheese Mango Roll (Php260/8pcs), Crispy Maki (Php250/8pcs) and Salmon Aburi Roll (Php230/8pcs).
You can also mix 'em up by getting a 12-piece sushi box with 4 pieces each of California Roll, Crazy Maki and Cheese Mango Roll for just Php230!
If you're feeling really peckish, you can always go for a Rice Bowl, consisting of a Japanese meat dish topping a steaming bowl of fluffy Japanese rice. Choose from these rice bowl options: Torikatsudon (fried breaded chicken cutlet – Php210), Katsudon (fried breaded pork chop – Php210), Ebi Tendon (shrimp tempura – Php210), Gyudon (beef strips – Php230), Grilled Salmon Steak (Php290) or Japanese Curry (Chicken or Pork – Php240).
You can also add a serving of Ebi Tempura (deep-fried batter-coated shrimp – Php150/3pcs | Php240/5pcs), Yakisoba (stir-fred noodles – Php200) or Kakiage (deep-fried batter-coated veggies – Php125) to complete your meal.
Now, what to drink as you eat your fill of those delectable Japanese food? Gulu Gulu's got you there as well with its extensive line of teas that make use of the finest and first-boiled black, green, red and jasmine tea leaves, lusciously chewy black pearls, nata de coco, grass jelly and other add-ons to bring you the highest quality drinks in amazing variants.
Milk tea flavors include: Original with Pearl (Php100/700ml), Milk Tea with Nata de Coco (Php110/700ml), Milk Tea with Grass Jelly (Php110/700ml), Taro Milk Tea with Pearl (Php115/700ml), Chocolate Milk Tea with Pearl (Php110/700ml), Matcha Milk Tea with Pearl (Php115/700ml0, Original Cheese Tea (Php130/500ml | Php150/700ml), Chocolate Cheese Tea (Php135/500ml | Php155/700ml) and Brown Sugar Milk Tea (Php120/700ml).
Definitely not to be missed is the Salted Egg Milk Tea (Php130/500ml | Php155/700ml) which should appeal to the Pinoy's penchant for sweet and salty combos.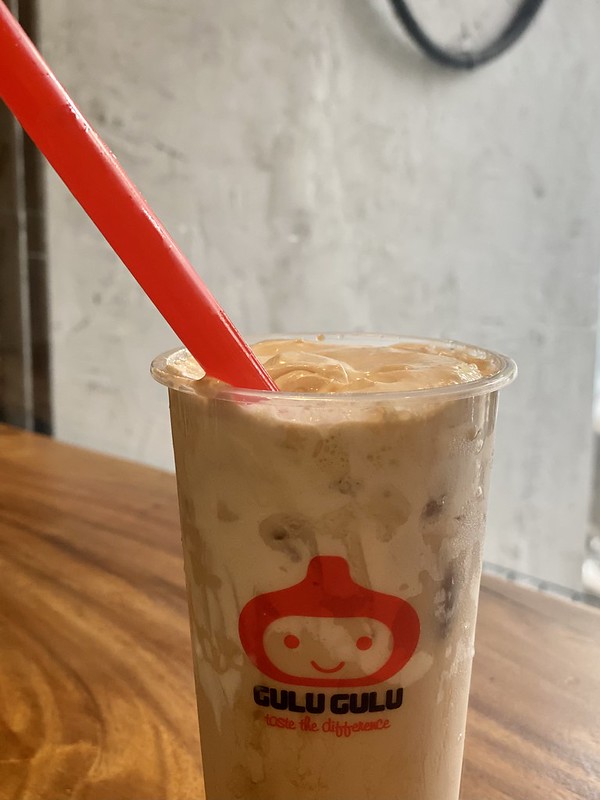 If fruit teas are more your thing, you can select your favorite blends from among: Signature Fruit Tea (Php130/700ml | Php160/1000ml), Special Lemon Tea (Php80/500ml | Php100/700ml | Php130/1000ml) or Orange Tea (Php80/500ml | Php100/700ml).
You might also want to check out the new fruit tea flavors Mango Gulu, Strawberry Gulu and Dalandan Tea.
So if you happen to be in the area and you feel your tummy rumblin', you know where to go!
Don't miss out on these special offers you can enjoy in this Gulu Gulu branch until February 28:
15% off on sushi rolls and rice bowls
2 Taro Milk Teas for Php165
To know its latest promos and offers, follow Gulu Gulu on Facebook or Instagram.
This Gulu Gulu branch is located at 405 Mayon Corner Calamba Street, La Loma, Quezon City, open daily from 10am to 10pm. For inquiries and reservations, call +63 2 83595787, +63 916 2125964 or +63 932 6144675.
Other branches are located at Savemore Nagtahan, SM North EDSA, SM San Lazaro, SM Sta. Mesa, Sto. Domingo Avenue, QC and Dapitan Street corner Maria Cristina Street in Manila.
Don't want to leave home? Have your takoyaki and milk tea delivered right to your doorstep by coursing your Gulu Gulu order via GrabFood or FoodPanda.
Disclosure: I attended a food tasting here together with fellow foodies. Food items mentioned here were served to let us sample the fare and elicit our honest feedback.
Check out my reviews of other Japanese restaurants: